Post by Ron Kulas on Jul 6, 2014 18:50:56 GMT -6
How I spent the 4th of July. On one of my bowhunting leases, The farmer's Barn collapsed under last year's heavy snows. The barn is 125 years old and built from virgin timber harvested on that land. The goal for the weekend is to take down the remaining roof and build short walls for trusses that should be here in about a week. The new roof will be a steel roof. Here is what it looked like on this morning. Day one. The far side roof is what came down last winter.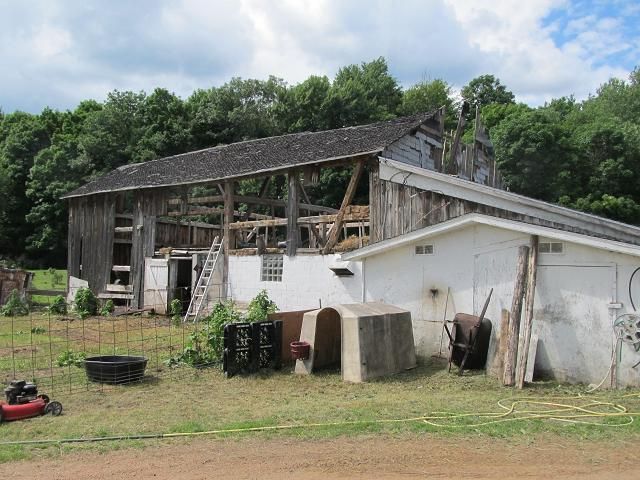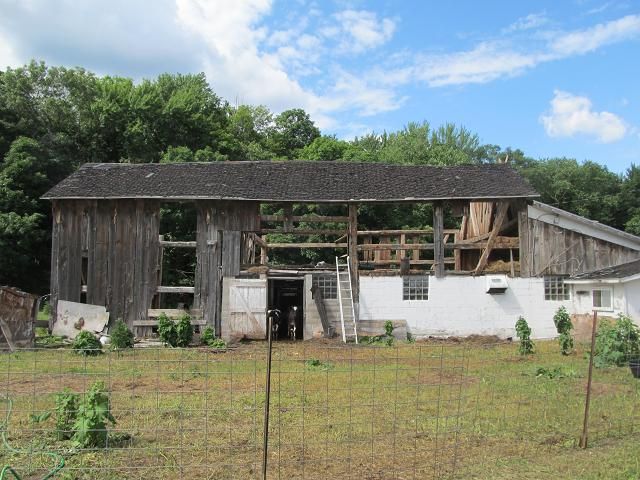 Here is a view of the far side that has since been cleaned up of all the debris last winter.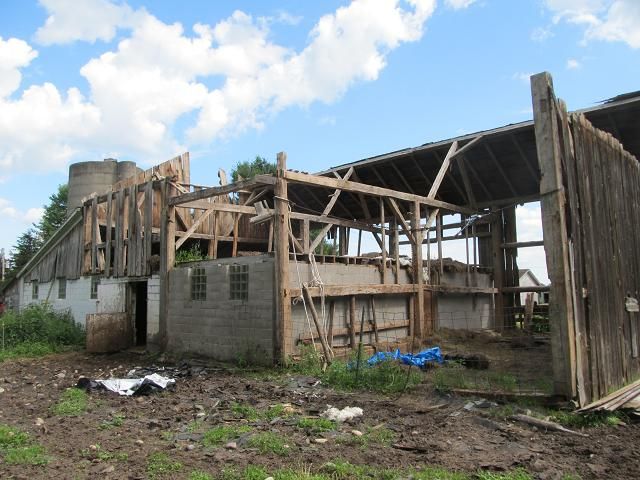 There was just no way to delicately take down the barn to reclaim all those old beams except climbing up with a sawzall and removing the decking I don't really mind safe heights. This was anything but.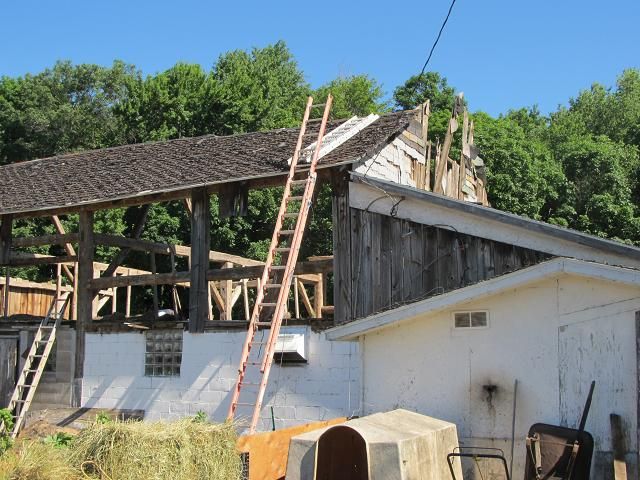 We moved right along tearing away the decking and hauling it out so more could come down. (thank God for a dump wagon.)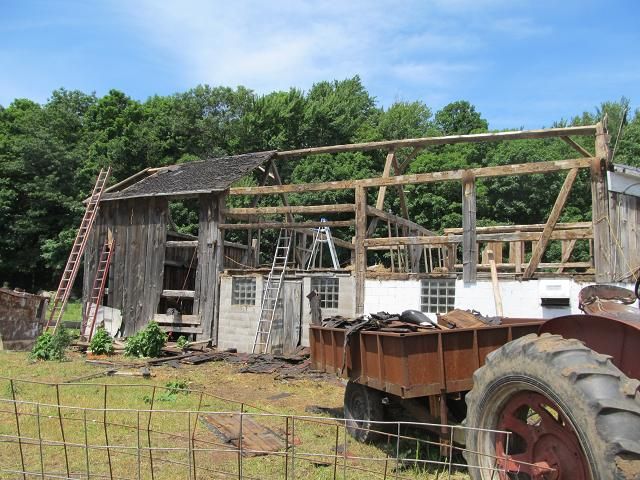 There were a lot of scary heights and moments up high with a running chainsaw cutting main support beams and hoping to not have to dive off. We were gentile and took it down beam by beam. No injuries and no damage to the existing barn or beams.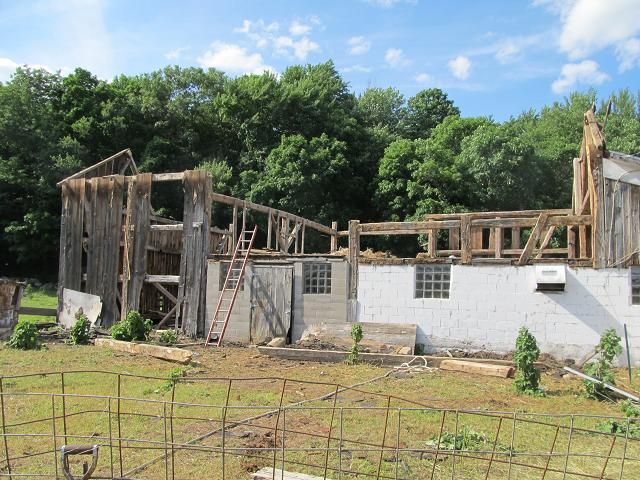 Some of the boards are 2 feet wide. The main beams are 32 feet long and in good shape but heavy as hell. I would have love to seen this barn being built in 1889 with no nails in the entire construction of the frame.
Some more tear down to do and then reconstruction with a steel roof. The plan is to build short walls and then put up trusses with a steel roof that I think will look like when finished.
Day two was a bit easier. A little more deconstruction and then we got into construction. Today I had some good helpers. Here they are before we set the first new (repurposed) beam to support the trusses. You can see the beam in front of them, laying on my hammer. That beam section is 8 inches by 8 inches and 168 inches long and about all two men could do to lift and place it. How the original builders raised 32 foot long beams impresses me.
I told them after the beam was set to sign it so in a 125 years the next crew would know they were her.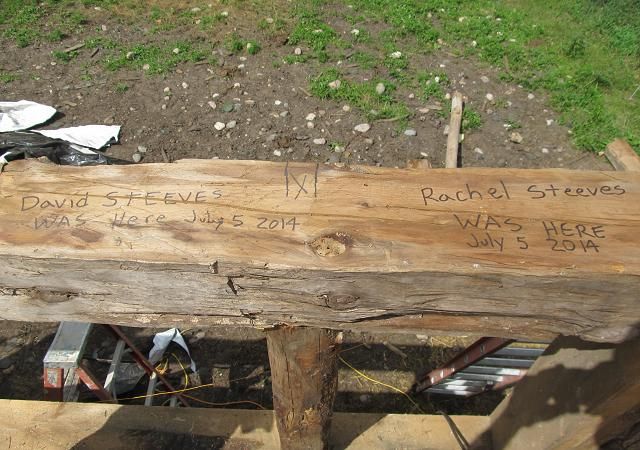 One new beam set and another to go.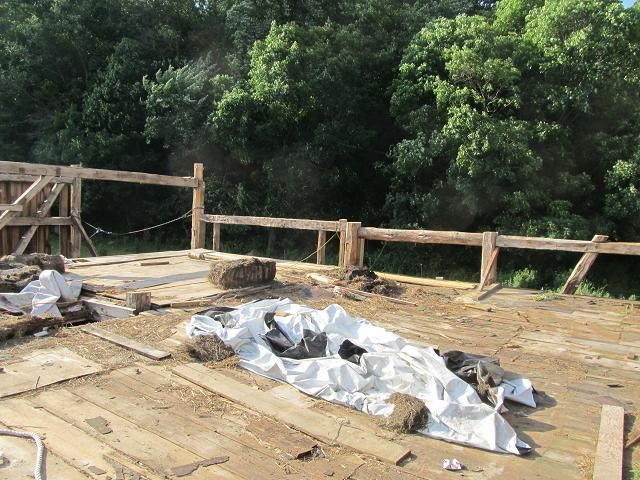 After we set the 2nd new beam I as down to one helper.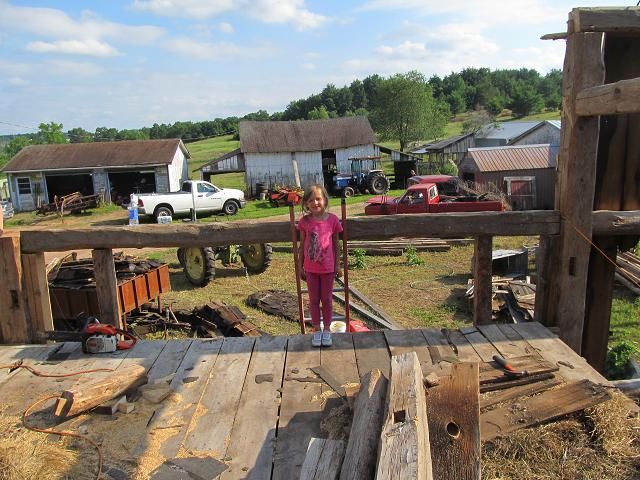 With all the beams set and existing beams reinforced we turned out attention to an unsupported wall. It was a windy day today and several gusts looked like they were about to push the wall in so we stopped to build in a temporary reinforcement. After that, the wind didn't matter. We even had the local Holstein building inspector checking our work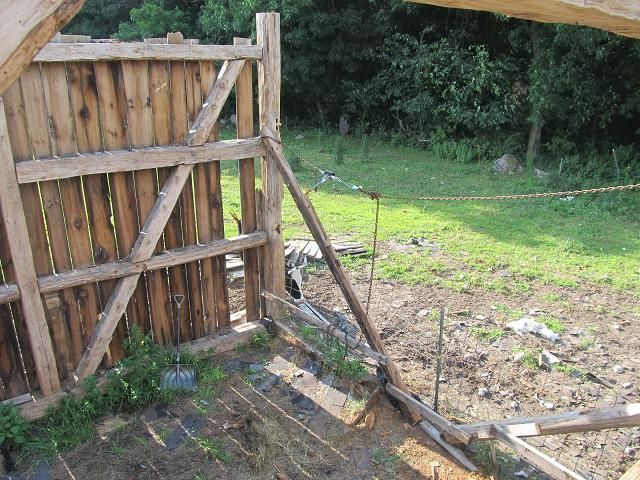 Tomorrow I will make the final preparations for the trusses which should be delivered by next weekend.