Post by Ron Kulas on Jan 14, 2013 14:03:26 GMT -6
So your cleaning that deer skull for a Euro mount and you get sloppy and get the oxi clean or bleach or peroxide or whatever you use to whiten the skull, on the antlers by mistake and whiten the antler as well as the skull. Now what? I have found that stains and dyes just don't cut it with antlers and the color match is never quite right. A long time ago I had heard about a common hardware store item working well to re-color antlers. I had some of this on hand for Boy Scout uses as an antiseptic, water purifier and fire starter (when mixed with anti-freeze or soap or sugar water, etc). Way back in the day it was part of a boy scout first aid kit until it was discovered that if accidentally mixed with the glycerin soap in the first aid kit that it would start on fire (just like mixing it with anti freeze) The product is called Potassium Permanganate. Its used today by those with a green sand water filters as an oxidizer.
To show how its applied, I took a section of antler left over from a project and boiled it in a mixture of water, oxi clean and bleach.
** Important safety note****
Don't boil water and oxi clean and add bleach unless you want a huge mess with lots of foaming. After cleaning that up, I mixed a smaller batch. Anyway. Here is the antler section.
Then I left it in the cleaner for a few hours to whiten it.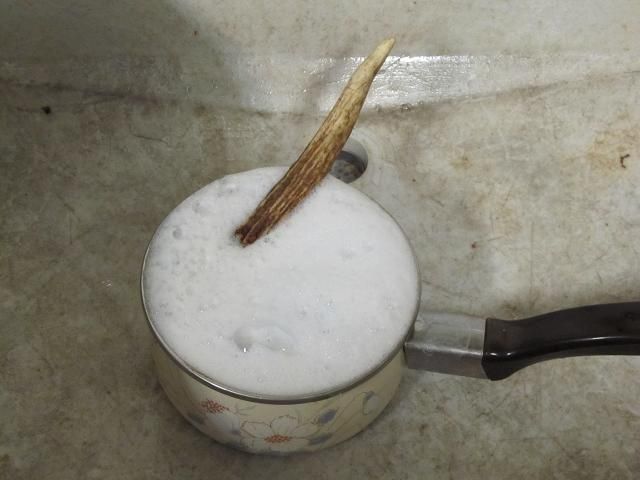 The whitened antler.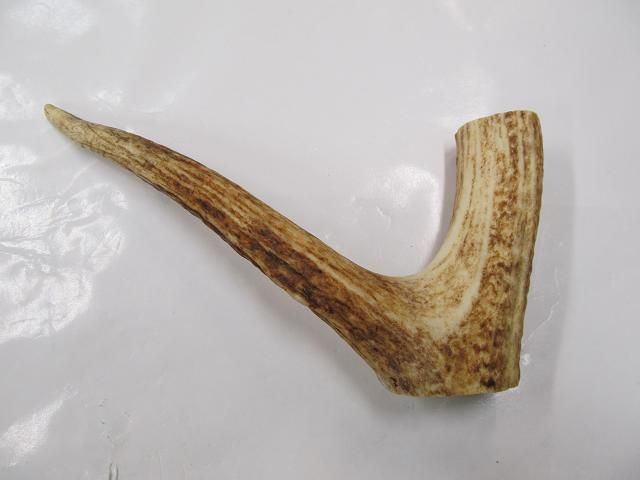 Potassium Permanganate looks like gun powder. It looks like a fine black powder but its actually a fine purple powder.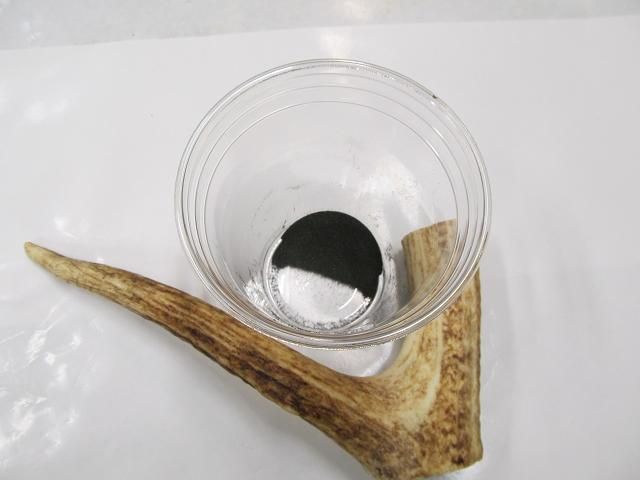 ***Warning***
This is a strong oxidizer. Wear safety glasses and rubber gloves and cover your work space.
When mixed with water, you will see the true color revealed.
I used a Q-tip to apply.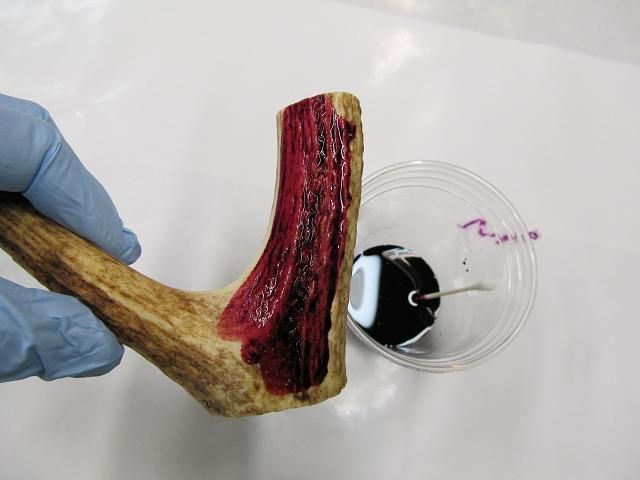 As soon as I had it coated, I rinsed the antler under water to remove and neutralize. I dried the antler with paper towel and a blow drier then took fine sand paper to mimic the polished or rubbed, high areas that looked whiter. Then I gave the antler a light coat of neatsfoot oil to return the slight gloss that antlers seem to have.
Your best bet is not to get whiteners on your antlers but if you do, you can fix them.
Just dont mix this stuff with antifreeze or gylcerine soaps.
for the pyros in the audience. There are other uses for Potassium Permanganate
www.youtube.com/watch?v=kA12Y-B-U08