Post by Ron Kulas on Dec 13, 2014 13:10:29 GMT -6
If you want to cold smoke items like cheese but wondered how, keep reading. You will want to get the "A-maze-n-smoker " After reading about the product, I made a few of my own. It's a perforated metal box that is 6 x 6 inches with a maze if metal strips that is filled with sawdust and let to smolder in the smoke house without generating heat. It's a freaking awesome thing.
Here are the parts I cut out before assembly. I used aluminum.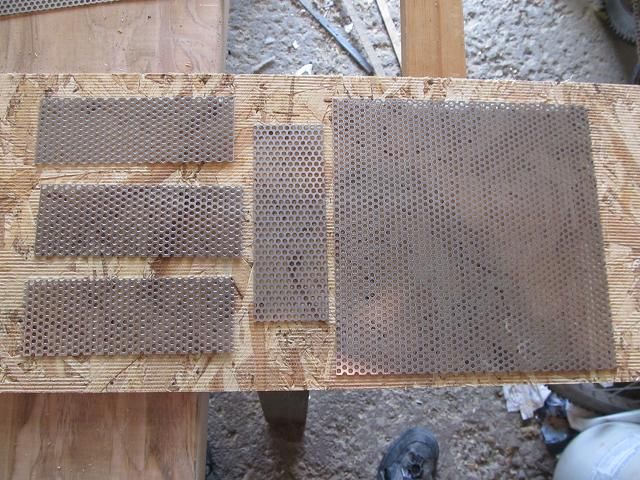 Then after cutting and bending.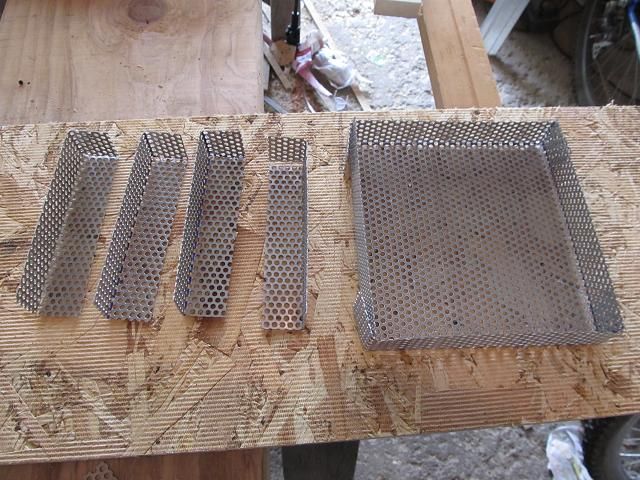 Then riveted together.
The rivets act as legs to space it away from whatever it sits on so air can flow under it.
Then I filled it with sawdust and lit each end through the hole I cut. The store bought version claims it will smoke for 8 hours if lit on only one end. I lit mine on both ends just to see how it would work. It produced a lot of smoke. I lit it at 5:30 pm.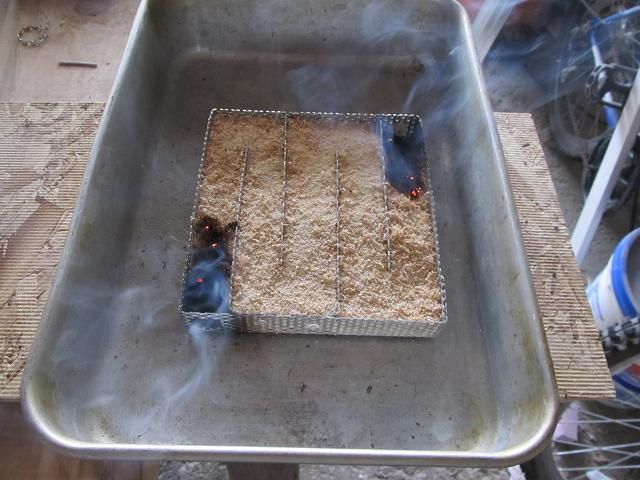 Here it is at 6:30
7:30
8:30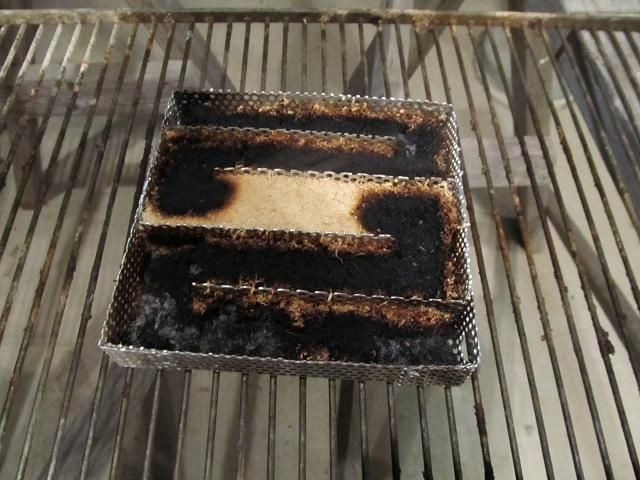 When it was burned out, I knocked it upside down and rinsed it with water.
I'm really impressed by this thing. He sells it for $32. I will make a few more for myself. If you're in the market for a very cool cold smoking, smoke generator, I would highly recommend checking his product out at.
www.amazenproducts.com/SearchResults.asp?Cat=12
I bought several varieties of local made cheese to cold smoke (it was 55 degrees this afternoon)
But first I needed some sawdust. I cut down a sugar maple 2 years ago so I passed a piece of it through my table saw until I had enough sawdust to smoke the cheese.
Then filled the smoke pan.
I took a big pan of ice out to the smoker about an hour before I wanted to use it. Since this is essentially a big, insulated cooler, the ice dropped the temp inside from 55 to 44. Then I cut the cheese. I'm smoking Cheddar, Swiss, Pepper Jack, String cheese and Cheese curds.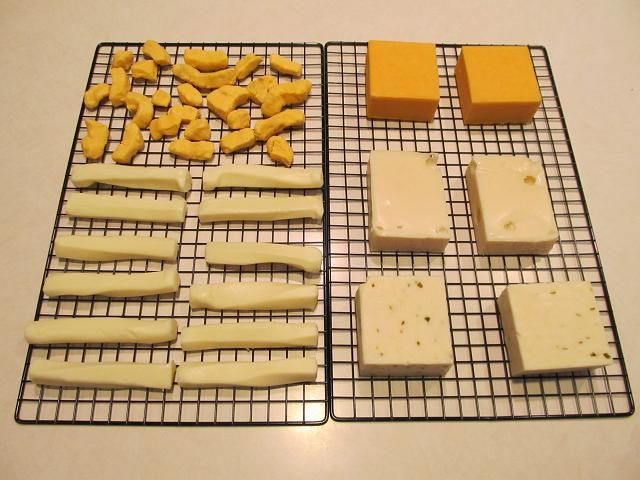 Then into the smoker with the sawdust pan.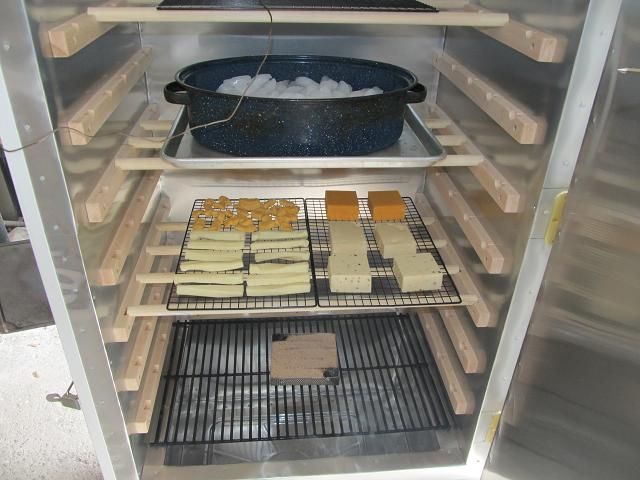 two hours later (4 hours for larger pieces) and the cheese is done. I emptied the sawdust pan to keep from choking and let the smoke clear.
The almost finished product.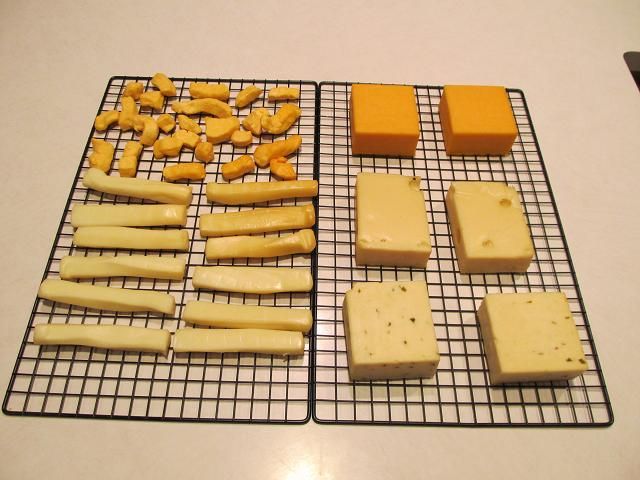 I bagged it all separately and then placed all the bags in another gallon sized bag and put it in the fridge where it will sit for two weeks and we will enjoy it around Easter time. Why? Everything I have read about smoking cheese says that if you try to eat the cheese right out of the smoker, it will taste like licking the bottom of an ash tray (I can only imagine what that would taste like) so the cheese has to mellow and absorb the smoke before it can be enjoyed……………………………… But being impatient, I sampled one of the cheese curds. Yup, ash tray, all the way. It was awful. If I had not read up on the subject, I would have thrown the whole lot in the trash, thinking I had done something wrong. It pays to study.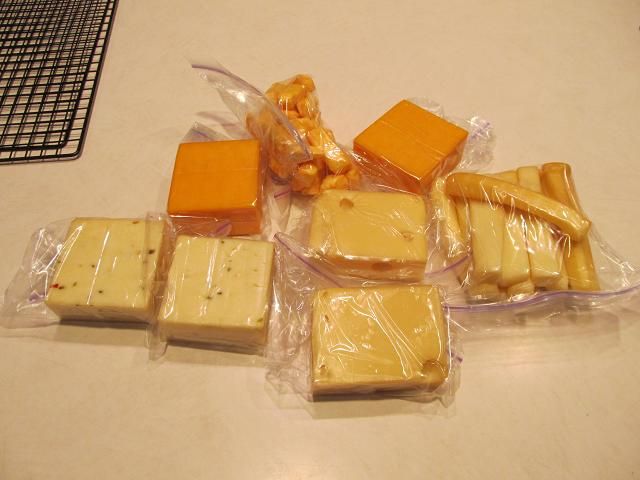 On another cold day I cold smoked some cheese, olives and salt.
If you would like to see the project I posted in how I built this smoker see this link.
ronkulas.proboards.com/thread/183/meat-smoker