Post by Ron Kulas on Sept 22, 2015 8:05:34 GMT -6
There is a lot to be learned about how and what deer see. I have researched everything I can get my hands on as it relates to a deer's vision. Reading studies, watching videos, listening to researchers has taught me a lot. Reading threads on hunting forums tells me most hunters still are not up to speed in regards to what/how deer see.
Deer do not view their world in black and white. They see color, most notable within the blue spectrum and yellow as well as UV. Their low light advantage comes at a cost in regards to what we would consider a form of colorblindness but they see color. That same low light vision also comes at a cost in regards to image clarity. They don't see as well as we think. Their best defense is their ability to spot movement which is why guys wearing blue jeans washed with UV brighteners are still killing deer.
That horizontal pupil is their downfall as it relates to treestand hunters. Their vision is better at the horizon and worse above and below their straight forward gaze.
Camo (like fishing lures) is made to catch the eyes and pocket books of people. It means squat to deer. They don't see like we see. If you donned a wild pattern and super colorful Hawaiian shirt, you would look like an idiot to most hunters but to a deer, you would look no different than had you dropped big $$$$ on some overpriced camo brand. We still have that army camo mentality that makes us think because it fools human eyes and hides us from other hunters, it must also be working for deer. We fail to consider that humans are trichromatic while deer are dichromatic.
In almost 40 years of hunting deer with gun and bow, I have had deer look right at (and through) me while wearing solid blaze orange and blue jeans and not become alarmed. Why? Because I didn't move. Think about this "movement" when you are decoying since its key to decoying success. They cant even find a motionless deer look-alike unless it moves.
That being said, I like camo (even if its meaningless in regards to a deers eyes) because I also hunt other critters like bear and turkey (who see color and movement like no other animal but again movement is the key).
I make a lot of my camo or buy bargain basement/on sale/ yard sale camo. Its just not important. Last weekend I had a few occasions over a couple days where deer bedded between 6 feet and 20 yards of me in wide open trees while sitting in a ladder stand. All of them looked right at me at some point. None of them cared. None of them bolted or even stomped. I didnt move, they didnt care.
On cold mornings, My worst enemy is a ray of sunlight and frosty breath. Every exhale produces that misty, moving cloud that gives me away. Opening weekend it got me noticed by a doe and then later a buck. I wish I could fix that because I stopped worrying about camo a long time ago. Worry more about movement, sound and scent.
We buy camo for the human eye (nothing wrong with that if you want to hide from other people and as hunters we do that to some degree) but from a deer's standpoint, all the below patterns would be equally effective.
top row Corrected for deer's vision.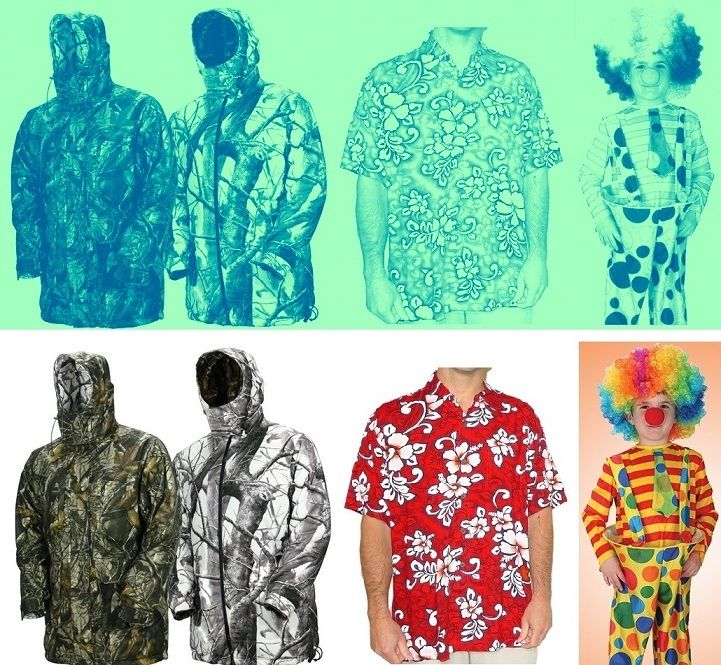 Some videos to watch.
www.youtube.com/watch?v=_SKJeenZmf8
www.youtube.com/watch?v=Y9gbl-RS14A
Sales pitch coupled with good thinking.
www.youtube.com/watch?v=7yUbYwWqLnc
Not as useful but some wisdom
www.youtube.com/watch?v=mKm9p8-HCTA
Sale pitch and science.
www.youtube.com/watch?t=109&v=DNe2PB3CSnA
almost useful
www.youtube.com/watch?v=HlV9fm68wUc
outdoorchannel.com/article.aspx?id=3531&articletype=article
www.outdoorhub.com/stories/2013/12/02/whitetail-vision-shedding-light-deer-eyesight/
digitalcommons.unl.edu/cgi/viewcontent.cgi?article=1279&context=icwdm_usdanwrc
www.petersenshunting.com/deer/whitetail/science-of-sight-whitetails/
www.grandviewoutdoors.com/big-game-hunting/scientific-facts-about-how-deer-see-and-hear/